Teenager praised for attending medical school | Health, medicine and fitness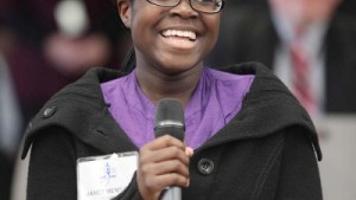 [ad_1]
By ADAM GOLDSTEIN Aurora Sentinel

AURORA, Colorado – It was difficult for Janet Mensah to sum up how she felt when she found out she had been accepted into medical school.
She could have explained how ambitious it had been to be a doctor since she was in college, how neither of her parents had completed high school. She could have spoken of a deep desire to help people, a desire to eventually travel to Ghana, her parents' homeland, where doctors have to practice with few modern conveniences.
But the first observation Mensah made to a group of city officials, Aurora Public School District administrators, and the US Secretary of Education at a recent roundtable at Vista PEAK Preparatory High School was a lot. more simple.
"Needless to say, I was really happy when I got it," Mensah said.
Mensah's eloquence, as well as her academic achievement, is all the more impressive considering that she is only 18 and has yet to graduate from high school. Earlier this year, the senior from William Smith High School was accepted into the Bachelor of Arts-Bachelor of Science-Doctor of Medicine program at the University of Colorado.
Mensah will receive a scholarship to earn her bachelor's degree at the University of Colorado at Denver and, as long as she maintains good grades, will automatically be admitted to the University of Colorado School of Medicine.
"You still have to meet the requirements: honor science courses, pass the MCAT with a fairly good score. You have to stay involved in the program, "Mensah said.
Mensah found early academic direction in the Aurora LIGHTS health sciences program at Aurora Public Schools, a specialty stream that she says has helped formalize her goals in the medical field. Summer weeks spent working with doctors and researchers at the Anschutz Medical Campus at the University of Colorado Hospital, college and high school classes with a rigorous emphasis on biology and science – these elements were crucial precursors to his career decision.
"I heard about the Aurora LIGHTS program when I was in first year at William Smith. It solidified it for me. My mom worked in the hospital. I went to all the machines and people and I thought that it was wonderful, "Mensah mentioned.
"Every summer, LIGHTS had a program on campus. … In the summer of second year, we got into applied science to the medical field, we had guest speakers. We looked at the cadaver lab, we hit the organs and everything. "
At a Feb. 28 town hall that included a visit from U.S. Secretary of Education Arne Duncan, administrators cited Mensah as a living testament to the power of the district's Budding Pathways program, an initiative that seeks to connect students from the start to vocational training.
"We are bringing in students from the area that we wouldn't have.… (Janet) took advantage of every opportunity we had to offer her, including research internships at our medical campus, institute programs summer (and) embark on a very difficult program, "said Allegra Melillo, professor in the medical school and director of the Aurora LIGHTS program.
"She is an exceptional student and has shown what this path can do for our students."
It is a story that marked Duncan.
"This community, this diversity is what the country is. This young woman has a parent who did not graduate from eighth grade. She is going to be a doctor," Duncan said. "This is the American dream. This is what it is."
Mensah's ultimate plans extend beyond the United States to the land of his ancestors. Visiting her parents' homeland in 2005 offered a different perspective on healthcare, Mensah said.
"My family is relatively uneducated. They are from Ghana and there are not many educational opportunities. They still supported me," Mensah said. "Finally, I want to go back to Ghana and offer my services there. … In 2005, I went there and it was difficult, but you learn a lot about yourself. It broke my heart and drove me crazy when I saw the facilities. I can do something about it. "
[ad_2]