White Label Health Foods / Supplements Printing in UK – Custom Branding Service Launched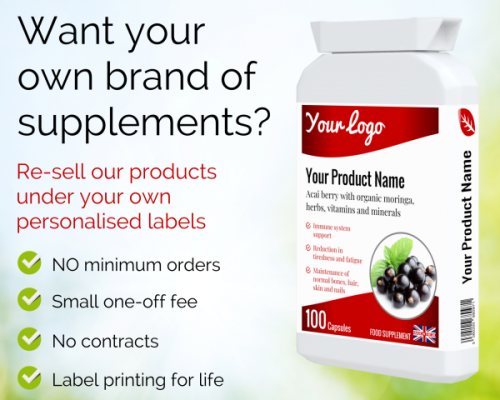 [ad_1]
Specialist Supplements has announced an update to its white label services which can create personalized health products and dietary supplements for UK companies looking to increase their revenue.
Rhayader, United Kingdom – January 3, 2022 –
Specialist Supplements has launched its updated white label services for business owners in the UK looking to sell their own branded health foods and dietary supplements.
More information is available at https://www.dropshipwebhosting.co.uk/own-label-services
The updated services can be used by businesses such as those in the fitness industry to promote and sell health supplements with custom logos to build brand loyalty and prestige while improving their revenue.
Business owners who are looking to both increase their profits and make their business look professional may know the benefits of selling branded products featuring their logo and company name. However, sourcing the products, designing the packaging, and shipping the items can be a time consuming and expensive process.
Specialist Supplements' services offer a solution to this problem with their comprehensive white label services which also include direct to customer dropshipping.
The products available in the company's white label services include a wide range of dietary supplements, diet foods and herbal formulas such as antioxidants, digestive aids, meal shakes, omega oils, protein powders and weight management aids. Additionally, all of the company's products are made in the UK and meet strict GMP and ISO standards.
To allow for complete product customization, Specialty Supplements include a customer's trade name, logo, and contact information as well as a description and ingredient list for each product. They can also provide professional images of a customer's personalized labeled products for use on their website and marketing materials.
Designing a personalized label through the company is done through a one-time fee which can then be used for all products with no minimum orders or contracts required. Plus, customers get free lifetime printing for their personalized labels, paying only for the products they purchase.
Specialist Supplements' drop-shipping services give customers the ability to ship products directly to their customers in the UK, eliminating the need for product storage or the time and expense of packaging itself. This service maintains a professional image, with items appearing to have been shipped directly from a company's own warehouse.
In business since 1995, the UK company has both industry experience and established business practices to enable it to provide reliable and efficient white label service to its clients.
A spokesperson for the company said, "We do everything we can to help our clients succeed in their businesses and increase their income."
Interested parties can find more information by visiting https://www.dropshipwebhosting.co.uk/own-label-services
Contact information:
Name: Dave Jones
Email: send an email
Organization: Specialist Supplements Ltd (Trade & Practitioner Division)
Address: Unit 4 East Street Enterprise Park, Rhayader, Powys LD6 5ER, United Kingdom
Phone: + 44-1597-810547
Website: https://www.dropshipwebhosting.co.uk
Version number: 89058701
COMTEX_399998005 / 2773 / 2022-01-03T19: 03: 44
[ad_2]