How Nutrition Helps Cure Cancer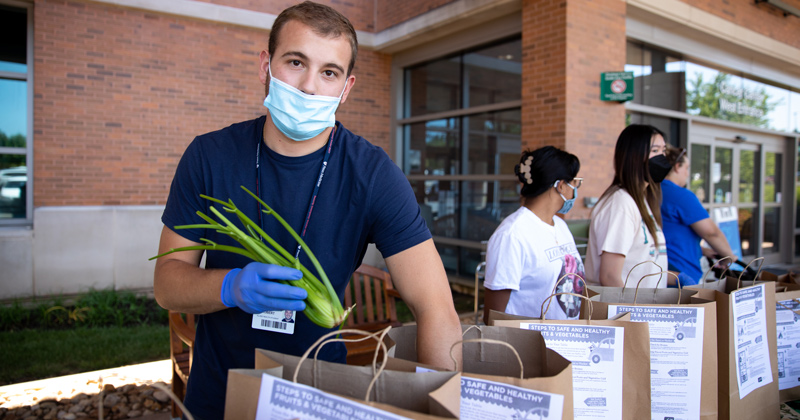 Article by Amy Cherry
Photos by Ashley Barnas
September 02, 2022
Nutrition major helps cancer patients focus on nutrition through a farmers market during the ChristianaCare internship
Bonnie Chambers was diagnosed with breast cancer in October 2021 at the age of 41. The cancer was identified during her annual mammogram.
"If I had waited until I felt something, the cancer would have metastasized," she said. "Once I finish my treatment, I will be such an advocate for screening mammograms. This screening saved my life.
Looking back, Chambers is grateful. But the road has been long. She suffered from serious side effects of chemotherapy, including nausea, abdominal pain, fatigue, numbness and nerve pain, dizziness and a general lack of interest in eating. On August 4, Chambers had just had reconstructive surgery and was not healing as she had expected.
"I had gone back to working as a nurse practitioner at ChristianaCare," she said. "I was tired, just feeling depressed, worried about starting radiation and worried about my kids."
Then, the kindness of a stranger, who turned out to be Robert Weimer, a student at the University of Delaware, changed his mindset.
"He handed me this bag of fruits and vegetables outside the Helen F. Graham Cancer Center and Research Institute at ChristianaCare," Chambers said. "It almost brought tears to my eyes – just that moment when you needed a touch of kindness and positivity, it just helped me through it."
Every Thursday, Weimer hands out bags of seasonal fresh produce from UD's Fresh to You student-run farm to cancer patients like Chambers as part of the Graham Cancer Center's Oncology Farmers' Market. Weimer, a senior specializing in nutrition and medical sciences, spent his summer interning at ChristianaCare.
"The biggest benefit of the farmer's market is that patients basically receive a prescription in the form of a brown paper basket provided by UD's farm," Weimer said. "When we tell them it's fresh and free, the bags run out in minutes."
This summer, the bags contained steak and cherry tomatoes, peppers, squash, cucumbers, Swiss chard, kale or romaine lettuce, cauliflower and herbs. Patients also receive recipe cards and tips on how to store products for maximum freshness.
"Some like to cook, and with cancer, they've had to resort to a bland, boring diet because of the changes in taste and smell," Weimer said. "So something that's often enjoyable like a chicken parmesan can make them nauseous. But showing them that there are other options and different recipes that help them get the amount of nutrients they need enlightens them.
Alisha Rovner, an assistant professor in the Department of Behavioral Health and Nutrition at the College of Health Sciences, called this internship the perfect internship for Weimer.
"Nutrition is a very important part of many types of medical care, but especially for oncology patients," Rovner said. "This internship could not be more perfect for him to bring his knowledge of nutrition and also to learn the importance of good nutrition in cancer patients."
Weimer's passion for nutrition and positive patient outcomes made him an asset to ChristianaCare, where he worked directly with registered dietitian Tiffany Whary.
"His enthusiasm for nutrition is just infectious — and it's not just infectious for me as a healthcare provider — but for the patients he serves," Whary said. "When he distributes these products, he does so with such enthusiasm because he knows he is helping these patients."
Chambers, who is primarily a vegetarian, said her trips to the farmer's market reignited her passion for food.
"We've used the vegetables to make amazing dishes like a delicious vegetable quiche," Chambers said. "Even when I was on chemo, let me tell you, I enjoyed eating this."
A UD connection from the start
The idea for the Farmers' Market originated several years ago, starting with a small rooftop garden above one of ChristianaCare's cancer suites.
"Here at ChristianaCare, we're always trying to be innovative and figure out ways to help our patients," Whary said. "But every week we didn't have enough vegetables. The need was there. »
Whary sought to expand the Farmers Market and was inspired by her childhood to reach out to UD's Fresh to You farm. Her father, Robert Carroll, is a retired professor of plant pathology at UD's College of Agriculture and Natural Resources.
"The program is very close to my heart," Whary said. "I grew up with a strong love of the farm and a strong bond with it due to my father's profession; I grew up seeing the benefits of how fresh produce can help the community. Knowing that UD's farm is in our backyard at ChristianaCare, I knew we could collaborate and bridge that gap.
Today, UD Farm Manager Abby Reeves delivers a few hundred pounds of sustainably grown produce to the Graham Cancer Center each week.
"My main goal has been to increase community involvement on the farm," Reeves said. "I think contributing to the ChristianaCare Farmers Market is a great opportunity for us to give back. We have so many additional products, so donating it to such a great cause is rewarding, and I know it goes to a part of the community that really needs it.
With inflation driving some of the highest grocery prices in recent memory, the free products have helped patients who often have to choose between paying for medicine and putting food on the table.
"Patients have told us that this initiative has helped them stay on track with their treatment and that they couldn't have had fresh produce without the farmers' market," Whary said. "Many said it was their grocery store for the week. It's one less thing they have to worry about.
Whary emphasized that proper nutrition improves patient outcomes.
"We're presenting nutrition as a way to help patients transition to cancer survivorship, and it engages them in the process," Whary said. "Adequate nutrition helps patients feel better; this helps them retain their strength and energy and maintain their body weight and nutrient source.
Chambers said she saw a difference in her recovery after healthy eating.
"When your body is weak and stressed, it's always reassuring to know that what you're giving your body is going to get you through it, and it's not empty calories. It produces a different kind of energy," Chambers said.
A holistic approach
The ChristianaCare Oncology Farmers Market is about more than just providing fresh produce. It is also about educating patients and considering all the issues that converge with a diagnosis of cancer.
"From emotional stress and financial burdens to social and transportation issues, it's not just about making sure patients get a bag, it's also about making sure they can carry it to their car. "Whary said. "It's about looking at the whole patient and helping them on their cancer survival journey. »
Whary said she hopes Weimer has learned the importance of taking a holistic approach to patient care.
"No matter which piece of the health puzzle you're in, this experience has prepared him greatly to be a wonderful doctor and to see the big picture for a patient," Whary said.
From her internship, Weimer learned that nutritional care, too often, goes unrecognized. In addition to her work at the Farmer's Market, Weimer has also administered malnutrition screening forms to patients that help inform nutritional intervention strategies.
"Cancer patients are so overwhelmed with all the medical aspects of their care that something as simple as eating can go unanswered," Weimer said. "When we ask them how they eat and manage their weight and if they have energy, when I show them that they have options to eat and can still enjoy them, they express a lot of joy and gratitude. "
It also brings him joy. Weimer aspires to be a doctor and said nutrition-based interventions will always be part of his practice.
"It's such an easy and inexpensive lifestyle modification," Weimer said. "I know there are patients who may not have the money to spend on medications and prescriptions, and a simple change in diet can have a profound effect on recovery."
This mindset is exactly what Rovner wants to see in students.
"There's very little nutrition taught in medical school," Rovner said. "UD students studying nutrition and medical sciences enter medical school well prepared and with a unique perspective."
Rovner called it a phenomenal experiential learning opportunity for Weimer.
"The opportunities for students to gain real-world experience outside of the classroom are so important," Rovner said. "Robert having the opportunity to talk to patients and discover their challenges and barriers and gain insight is invaluable."
Weimer added that it was also great to connect what he learned in the classroom to UD and apply it in a community setting.
"Seeing patients follow dietary guidelines and seeing improvements in their health is rewarding," Weimer said. "Then seeing the science behind why and how it works and then in real life delivering the intervention and seeing positive results reinforces what I'm learning."
Weimer's UD education prepared him well for his summer internship and his future, Whary said.
"The knowledge base of nutrition students at the University of Delaware is second to none," Whary said. "Robert came to us with an enthusiasm for learning – and that's learning in the real world – not learning in textbooks. His upbringing helped him see the big picture and the great results nutrition can have.
Weimer's enthusiasm is something Chambers will remember for decades.
"Robert has a positive impact on people's lives, and it's people who are depressed and need it — their souls and their bodies need it," Chambers said.