DVIDS – News – Supplements can be dangerous for health and jobs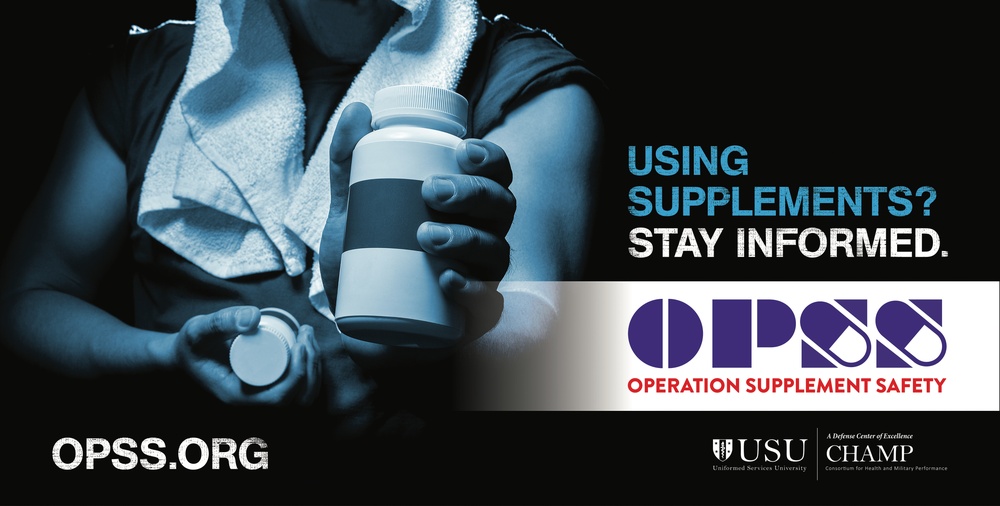 By V. Hauschild, MPH, US Army Public Health Center
ABERDEEN PROVING GROUND, Md. — A recent U.S. Army Public Health Center study conducted with the U.S. Army Research Institute of Environmental Medicine and the Naval Health Research Center found that active-duty service members were significantly more likely to use supplements food than American civilians.
"The data from our study revealed that the military tended to use different types of dietary supplements than civilians," says Ryan Steelman, an APHC epidemiologist and co-author of several studies with USARIEM and NHRC. "Comparisons with previous military data also suggest that the use of dietary supplements in the military population has increased over time."
Dietary supplements as defined by the Food and Drug Administration are products taken orally, such as tablets, capsules, gummies, powders, drinks, and energy bars, that contain one or more ingredients used to supplement diet. These ingredients may include vitamins, minerals, herbs or other plants and amino acids, as well as other chemical and manufactured substances.
The National Institute of Health's Office of Dietary Supplements describes commonly used supplements as those that contain vitamins such as D and B12, minerals such as calcium and iron, herbs such as echinacea and garlic, and products such as glucosamine, probiotics and omega-3s. fatty acids.
"With active-duty military members, products typically used to enhance physical performance are most popular," Steelman says. "These include proteins, amino acids, and products containing a combination of substances, especially multiple stimulants."
While nearly half of service members in a recent military study consumed sports-related nutritional supplements (sports drinks, sports bars, sports gels), Steelman says the self-reported adverse effects of these products were considered low.
"The dietary supplements that have had the most adverse effects are marketed for weight loss, use before or after workouts, and prohormones," Steelman says. Steelman and colleagues at USARIEM and NHRC investigated military use of 163 products and found 13 to be of concern due to high proportions of adverse effects.
The study found that more than one in four people experienced an adverse effect. Data suggest higher risks of adverse effects associated with female gender, younger age, higher body mass index, smoking, higher alcohol consumption and more supplement use .
The NIH notes that a few dietary supplements may help improve certain health conditions in unique populations. But most supplements haven't been researched enough. While inadequate data regarding efficacy is a concern, the safety of the product – or its potential contaminants – is a greater concern.
The dangers associated with dietary supplements that particularly appeal to the military led to the recent release of a new policy on the use of dietary supplements at the Department of Defense.
The new policy makes dietary supplement education mandatory for all service members. While this will include teaching basic awareness to soldiers and leaders, it will lead to standardized training for personnel who provide health-related services.
A key aspect of the training is to increase awareness of the DOD's prohibited dietary supplement ingredient list. Service members may not use the products on the list without permission from a DOD health care provider. The list currently includes more than 800 substances. These include controlled substances, other substances banned by the World Anti-Doping Agency or other sports organizations, and other hazardous ingredients.
The list is publicly available on the Operation Supplement Safety website and is intended for DOD service members and medical professionals.
"What is important to understand is that the prohibited list describes the ingredients, not the brand names of the products being sold," says Andrea Lindsey, director of OPSS, a program of the Consortium for Health and uniformed health university military performance. "But the OPSS site and the 'Ask an Expert' helpline can help understand the ingredients on the label and determine if the product should be avoided."
"I've had soldiers ask me if a new product they wanted to take to improve performance or help with weight loss was safe," says Maggie Stover, an Army Public Health Nurse. . "It's an overwhelming question – but at least the OPSS website can help us in our mission to advocate for the safety and health of the active duty population."
Service members themselves are the primary users of the OPPS site. Users can "Ask the Expert" questions such as "Is product X safe?" or "Will I be positive if I take product Y?"
Supplement ingredients may be present in varying amounts and described as part of proprietary blends in products. Ingredients can also have several different names for a substance that might appear on a label. The OPSS website lists more than 1700 synonyms for the 800 prohibited substances on the DOD Prohibited Food Ingredient List.
An example is dimethylamylamine. Although also known as DMAA, there are over 30 different possible names for this ingredient that can be used on a product label. Examples include geranamine, also trademarked as Proviant, and methylhexanamine or MHA. DMAA, a stimulant, was developed as a nasal decongestant. In 2013, the Food and Drug Administration declared DMAA illegal as a dietary supplement ingredient because it raises blood pressure, which could lead to heart attack, shortness of breath, and tightness in the chest.
Unfortunately, DMAA is still used in some supplements that claim to help with performance enhancement and weight loss. Products containing DMAA have been linked to serious adverse effects such as liver damage, cardiac arrest, stroke, cerebral hemorrhage and death from physical exertion. Service members are prohibited from using dietary supplements containing DMAA, but they may not be aware of its presence in a product, especially if it is listed by one of its other ingredient names.
Due to the increasing number of products on the market with different ingredients or mixtures of which nothing is known, the DOD's list of prohibited ingredients will continue to grow as regulatory agencies identify evidence of hazardous substances.
Since the new policy requires DOD healthcare providers to document service member use of dietary supplements, as well as any serious adverse reactions, in the service member's medical records, additional data may help. improve messaging to service members.
Although the new policy states that retail establishments on military installations may not sell products containing ingredients on the DOD's Prohibited Ingredients List, military members and health care providers should not assume that products purchased on a military exchange are in accordance with DOD policy.
"It's a new policy, and the products are constantly evolving with new ingredients and combinations of ingredients," says Lindsey. "In addition to our website, we are available to answer questions and provide consultation and training to meet the goals of the new DOD policy."
Lindsey encourages everyone to bookmark the OPSS website and its "Ask an Expert" option to help make informed decisions about dietary supplements.
Stover also offers some common sense advice: "If something sounds too good to be true, it is. Save your money and avoid the risks of dietary supplements – don't take anything your health care provider hasn't recommended.
The U.S. Army Public Health Center focuses on promoting healthy people, communities, animals, and workplaces through the prevention of disease, injury, and disability of soldiers, retirees, family members, veterans, civilian military employees, and animals through population-based surveillance, surveys, and technical consultations.
NOTE: Mention of any non-Federal entity and/or its products is for informational purposes only and should not be construed or interpreted in any way as a Federal endorsement of such non-Federal entity or its product.
| | |
| --- | --- |
| Date taken: | 17.06.2022 |
| Date posted: | 17.06.2022 11:28 |
| Story ID: | 423259 |
| Location: | WE |
---
| | |
| --- | --- |
| Web views: | seven |
| Downloads: | 0 |
---
PUBLIC DOMAIN


This work, Supplements can mean health hazards, jobmust follow the restrictions listed at https://www.dvidshub.net/about/copyright.